Tibet - Birding the Roof of the World
Saturday 3rd June – Friday 23rd June 2017

For anyone with a sense of adventure, it is with an almost mystical regard that they look towards the Qinghai - Tibetan Plateau and the list of mouth-watering species that resides here. This isolated, high-altitude region has long held a certain fascination for birders and now, with 'new' areas opening up, we are pleased to present our take on the region, which surely holds some of the most spectacular scenery on the planet. Our birding on 'The Roof of the World' as the Tibetan plateau is widely known, begins around the mountains close to Xining before moving slowly up onto the Tibetan Plateau as we visit all of the prime sites to find those very special birds. Our tour is timed for the early summer period when the weather is at its mildest and bird activity is at its highest. Amongst the very impressive scenery of snow-capped mountains, high-altitude passes, hidden valleys and tumbling streams we will search for such charismatic and much-wanted species such as Szecheny's Monal-Partridge, Pink-tailed Finch, a species recently placed into its own family, Tibetan and Himalayan Snowcocks, Henderson's Ground-Jay, Tibetan and Pallas's Sandgrouse, Roborovski's (Tibetan) Rosefinch, Kozlov's Bunting, 6 species of Snowfinch, and a whole host of other endemic, scarce and localised species. To add to the main targets we will look for Daurian Partridge, White Eared-Pheasant, Severtzov's Grouse, Saker, Chinese Nuthatch, Siberian Bluetail, Tibetan Grey Shrike, White-browed Tit-Warbler, White-browed Tit, Smoky Warbler, Tibetan Snowfinch, Brown and Robin Accentors, Pine Bunting, and both Red-fronted and Streaked Rosefinches amongst others. Just to add to this already incredible adventure we will cross some of the most remotest areas of the plateau on an overnight sleeper train bound for Lhasa, the historical capital of the Tibetan region. Our focus will be on the three main ornithological attractions to be found here, Tibetan Eared-Pheasant, Giant Babax and Prince Henri's Laughingthrush. This will be a thrilling climax to our Tibetan adventure and we have plenty of time to soak up the special atmosphere of this fabled city before we have to head back home.
TARGETS:
Szecheny's Monal Partridge

Przevalski's Partridge

Tibetan Partridge

Tibetan Snowcock

Himalayan Snowcock

Blue Eared-Pheasant

Tibetan Eared-Pheasant

Black-necked Crane

Ibisbill

Tibetan Sandgrouse

Pallas's Sandgrouse

Tibetan Lark

Mongolian Lark

Robin Accentor

Crested Tit-Warbler


Gansu Leaf-warbler

Ala Shan Redstart

Guldenstadt's Redstart


Tibetan Blackbird

Grandala


Giant Babax

Kozlov's Babax

Wallcreeper

Henderson's Ground-Jay

Prince Henri's Laughingthrush

Kozlov's Bunting

Pink-tailed Finch

Mongolian Finch

Pale Rosefinch

Spotted Great Rosefinch

Roborovski's Rosefinch

Pere David's Snowfinch


Henri's Snowfinch

Blanford's Snowfinch

Kiang, Tibetan Fox, Grey Wolf

Lhasa!
DAYS 1- 2 UK/EUROPE – XINING - 3rd to 4th June
Following an overnight flight from UK to Xining via Beijing, we will transfer a short distance to a nearby hotel for an overnight stay.
DAY 3 XINING – DONG XIA - HUZU BEI SHAN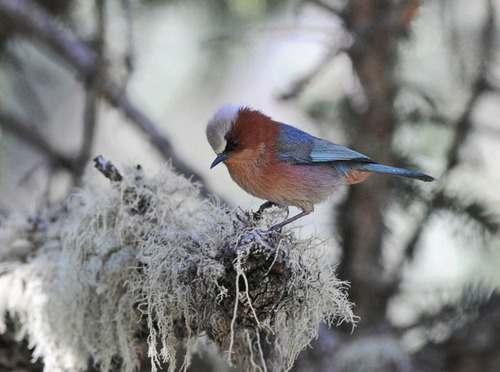 An early start with a packed breakfast will see us on the arid slopes of Northern Hill at Xining where we begin by searching for Daurian Partridge, Rufous-tailed Rock-thrush, Pied Wheatear, Pere David's Laughingthrush, Brown Accentor, Twite, Pale Rosefinch, and both Godlewski's and Meadow Bunting. Once we have finished here we will drive just under two hours to Dongxia Forest Park and look for our main target, the range-restricted Gansu Leaf-warbler. There are many other great birds to look for such as Eurasian Hobby, Przevalski's and Chinese Nuthatches, Oriental Skylark, Olive-backed Pipit, Grey-backed Shrike, Chestnut Thrush, Chinese Song Thrush, Elliot's and Plain Laughingthrushes, Siberian Rubythroat, Siberian Stonechat, Crested and White-browed Tit-Warblers, Hume's and Yellow-streaked Warblers, Rufous-breasted Accentor, Sichuan and Rufous-vented Tits, Asian Azure-winged Magpie, Daurian Jackdaw, Eastern Rook, Large-billed Crow, Grey-capped Greenfinch, White-winged Grosbeak, Common Rosefinch, Grey-headed Bullfinch and Black-faced Bunting. Later in the afternoon we will carry on to Huzhu Bei Shan for a 2-night stay.
DAY 4 HUZU BEI SHAN
We will depart very early from our hotel and then spend the rest of the day birding around the forested mountains, high pass and conifer-cloaked valleys not far from the border between Qinghai and Gansu provinces. Our primary targets are a couple of superb Chinese endemics, the beautiful Blue Eared-Pheasant and the very shy Severtzov's (Chinese) Grouse, both of which will take some time to find. This great

area also holds Blood Pheasant, Black Woodpecker, White-throated and Hodgson's Redstarts, Slaty-backed Flycatcher, Chinese, Claudia's and Large-billed Leaf-warblers, Chestnut and Kessler's Thrushes, Spotted Bush-warbler, Grey-crested Tit, Godlewski's Bunting and Grey-headed Bullfinch amongst others. It is interesting to note that the Northern Red-flanked Bluetails in this area are a little different and are a potential future split. Once we are finished here we can drive above the treeline and into more open habitat where species such as Blue-fronted Redstart, Siberian Rubythroat, Greenish Warbler, Alpine Leaf-Warbler, White-browed Tit, Streaked, Chinese Beautiful and Chinese White-browed Rosefinches can be found. Night at Huzhu Bei Shan.
DAY 5 KOR KOR LAKE - HEIMAHE
We can spend the first few hours of the day at Huzhu Bei Shan before heading higher up to the edge of the Tibetan Plateau where we shall find ourselves amidst a vast, open landscape of grassy plains and low, rolling hills. Common species to see in this habitat include Black-eared Kite, Hill Pigeon, more than likely our first Mongolian Lark, Horned Lark, Richard's Pipit, Hume's Ground-tit and the first of many White-rumped and Rufous-necked Snowfinches. Our destination is the huge Kor Kor Lake
(3200m), one of the largest lakes in Asia and should have plenty of time to explore the eastern edge for such goodies as Black-necked Crane, Pallas's Gull, Hume's Short-toed Lark, Tibetan Lark, Pale Martin, and both Pere David's and Blanford's Snowfinches. There will be numerous other species such as Black-necked Grebe, Greylag and Bar-headed Geese, plenty of familiar wildfowl, Chinese Spot-billed and Ferruginous Ducks, Red-crested Pochard, Kentish Plover and other waders, Pallas's and Brown-headed Gulls, Yellow Wagtail and Isabelline Wheatear. Overnight at Heimahe.

DAY 6 RUBBER MOUNTAIN - CHAKA
We will take a packed breakfast with us this morning and drive west to Rubber Mountain (3700m) where we will search for one of the most important species of the entire tour, Pink-tailed Finch, which is a species in a family all of its own! Also amidst the slopes and valleys of this area we hope to see Saker, Mongolian, Crested, Horned and Hume's Short-toed Larks, Wallcreeper, Blue-fronted Redstart, Hume's Ground-tit, Alpine Leaf-warbler, Smoky Warbler, White-browned Tit, Rufous-necked, White-rumped and Tibetan Snowfinches, Rosy Pipit, Rock Sparrow, Twite, Mongolian Finch and both Rufous-breasted and Robin Accentors. From here we will drive some 80 kilometres west to Chaka where we will stay for three nights.
DAYS 7 - 8 CHAKA
We will make early starts each morning and head further west to the mountains near Chaka (up to 3950m) in search of the endemic Przevalski's Partridge and the stunning endemic Ala Shan Redstart, both of which are endemic to this corner of China. There should also be Tibetan Snowcock present here and occasionally Himalayan Snowcock has been seen as well. The habitat at lower elevations contrasts starkly with the surrounding mountains, as we will find ourselves in a semi-

desert environment searching for Pallas's Sandgrouse and the amazing Henderson's Ground-Jay. Other species here include Xinjiang and Tibetan Grey Shrikes, Wallcreeper, White-winged Grosbeak, Mongolian Finch, Blanford's Snowfinch and Pine Bunting.
DAY 9 CHAKA - WENQUAN
This morning we will head south to Wenquan, which will enable us to pick up any species we still need for our lists so far. We will make a lengthy stop at the edge of Gonghe town as this can be good for a few species such as Eurasian Wryneck, Rufous-tailed Rock-thrush, Eurasian Hoopoe, Tibetan Wagtail, Asian Azure-winged Magpie, Mongolian Finch, Meadow and Black-faced Buntings, as well as the interesting Margelanic Whitethroat. The whole drive today is truly spectacular as the road eventually crosses the awe-inspiring Er La Pass at 4500m and we will find ourselves surrounded by a majestic panorama of snow-capped mountains, where on our last visit we were lucky to find the scarce Pallas's Cat. There should be a little time to check out the vicinity for Guldenstadt's Redstart, Tibetan Rosefinch, Brandt's Mountain Finch and others before heading to a basic guesthouse. Night at Wenquan.



DAY 10 ER LA PASS
Today is a very special one as we will be birding amidst the spectacular scenery at Er La Pass for two very important birds: Tibetan Sandgrouse and Roborovski's (Tibetan) Rosefinch. It will be a long, slow hike up to 4850m to the top and the scree-slope area to look for these very special birds, but there's plenty of other good species here as well. We may well also find Tibetan Snowcock, Guldenstadt's Redstart, Prince Henri's Snowfinch, and both Brandt's and Plain Mountain Finches in the vicinity. In the afternoon we will drive a few hours to Maduo for an overnight stay, but will pass through good habitat for a number of species including Hill Pigeon, Little Owl, Eurasian Wryneck, Salim Ali's Swift, Mongolian Lark, Desert Wheatear, Rock Sparrow, Pere David's, Rufous-necked and Tibetan Snowfinches, Mongolian and Desert Finches, and both Pine and Black-faced Bunting. The drive to Maduo can be good for mammals with species such as Woolly Hare, Kiang, Tibetan Gazelle and there could also be some Blue Sheep. Our last visit recorded a hunting Wolf as well. Night at Maduo.
DAY 11 ER LA PASS - YUSHE
We continue our journey in a southwesterly direction to Yushu, searching along the way for Spotted Great Rosefinch, before crossing a seemingly

endless expanse of grassland/steppe where raptors are numerous. We should see many Upland Buzzards, Black-eared Kites, Himalayan Griffons, Lammergeier and Saker. We will take time to search the rivers and marshes of the Huang He for Ibisbill, there's also a chance of Pallas's Fish-eagle as well, and there's plenty of other birds here such as Ruddy Shelducks, Lesser Sandplover, tibetana Common Terns, Salim Ali's Swift, Tibetan Lark, Tibetan Wagtail, Asian House-Martin and many others. One secret high pass often holds Siberian Rubythroat and Streaked Rosefinch as well, before we descend to the town of Yushe for the night.
DAYS 12 - 13 YUSHE - NANGQIAN - KANDE SHAN
Today we drive to Nangqian, passing through yet more incredible scenery and this will give us the opportunity to explore a scenic gorge that has been a reliable spot for Ibisbill, if we still need it! We may well pass family groups of Black-necked Cranes during our journey today, as well as Saker, Upland Buzzard, Kessler's Thrush, possibly Spotted Great Rosefinch, Pink-rumped Rosefinch, and there's a decent chance of seeing Kiang (Tibetan Wild Ass). We will spend the following day around Kande Shan Pass (4600 – 4800m) and gorge for the important Tibetan Plateau endemics, Kozlov's (Tibetan) Bunting and Kozlov's Babax. Other possibilities here and in some nearby sheltered forested valleys include Tibetan Partridge, Tibetan Snowcock, Szecheny's Monal-Partridge, White Eared-Pheasant, Golden Eagle, Himalayan Griffon Vulture, Lammergeier, Grandala, as well as Snow Pigeon, Wallcreeper, White-capped Redstart, Alpine Leaf-warbler, Greenish Warbler, White-browed Tit, Red-fronted, Chinese Beautiful and Streaked Rosefinches, and both Alpine and Robin Accentors. Lower down in the valley we can search for Eurasian

Eagle-Owl, Elliot's Laughingthrush, weigoldi Dusky Warbler, Crested Tit-warbler, White-browed Tit-warbler, Streaked and Pink-rumped Rosefinches and White-winged Grosbeak. Nights at Nangqian.
DAY 14 BEIZHA FOREST
We will spend the full day at Beizha Forest (3900m), which will mean switching to four-wheel drive cars to negotiate the rough terrain. Here we will primarily look for Szechney's Monal-Partridge if we still need it and Kozlov's Babax, but other quality birds include Blood Pheasant, White Eared-Pheasant, Salim Ali's Swift, Himalayan Bluetail, Giant Laughingthrush, Sichuan Leaf-warbler, Crested Tit-Warbler, Three-banded and Streaked Rosefinches, Tibetan Siskin and both Brown and Maroon-backed Accentors. There's a fine supporting cast here also, with Three-toed, Grey-headed and Black Woodpeckers, Rosy Pipit, White-tailed Rubythroat, White-bellied Redstart, Long-tailed Thrush, Slaty-backed Flycatcher and Grey-crested, Sichuan and Japanese Tits, Hodgson's Treecreeper, Black-streaked Scimitar-babbler, Chinese Fulvetta, Hume's Warbler, White-winged Grosbeak, Tibetan Siskin, Rufous-breasted Accentor, Grey-headed Bullfinch, Chinese White-browed Rosefinch and Maroon-backed Accentor amongst others. Night at Nangqian.

DAY 15 BEIZHA - QUMALAI
Mainly a long travelling day as we drive to Qumalai for an overnight stay, but with a few birding stops along the way if we see something worth investigating. It could also be an interesting day for mammals with Tibetan Fox, Grey Wolf, Tibetan Antelope and Kiang possible as we drive across the wide open plains of the Tibetan Plateau. Night at Qumalai.

DAY 16 QUMALAI - GOLMUD
Another early start will see us continue our journey across the Tibetan Plateau and through some of the remotest areas of the tour before joining the main Qinghai-Tibet highway at Budongquan. This will be our back-up site for Tibetan Sandgrouse if we missed it erlier at Er Lan Shan. We should stay observant for mammals today as there are more opportunities to see Kiang and Tibetan Gazelle, with this being our best bet for Tibetan Antelope of the entire tour and an outside shot at finding a truly Wild Yak. By mid-evening we should have reached Golmud where we board the overnight sleeper train to Lhasa in the Tibetan Autonomous Region.
DAY 17 ARRIVAL IN LHASA
We are scheduled to reach Lhasa in the late afternoon and will check-in to our hotel before exploring the surrounding area. Night in Lhasa.

DAYS 18 - 19 LHASA
We have one day birding and one day sightseeing in this magical place. On one day we will visit a nearby monastery for one of the major taret birds of the entire tour - Tibetan Eared-Pheasant. In the immediate vicinity we should find Prince Henri's (Brown-cheeked) Laughingthrush, Giant Babax, Tibetan Blackbird, Streaked Rosefinch, Brown Accentor, Severtzov's Tit-Warbler and Red-billed Chough. We will then spend some time sightseeing and visit the incomparable Potala Palace, which

still stands as the main symbol of Buddhist Tibet and is an experience not to be missed. Nights in Lhasa.
DAY 20 LHASA - BEIJING
Morning flight to Beijing and onward connection to UK.
DAY 21 END OF TOUR
Arrival back in UK and end of tour.
Leaders: Nick Bray and local guides.
Ground Price: £3950.00 – Xining/Lhasa
Airfare: £890 (approx) - UK/UK

Zoothera Tour Prices Explained
Single supplement: £450.00

Deposit: £500.00
Group size: Minimum for tour to go ahead 5 and maximum 10 with 2 leaders.
Included in cost: Accommodation in twin rooms mostly en-suite, all meals including picnic lunches, bottled water, snacks, transport throughout in air-conditioned vehicles, all park entrance fees, and services of local guides and leaders.
Not included: International airfare, insurance, visa fee, departure tax, excess luggage charges, drinks, tips, and items of a personal nature.

Accommodation: Ranges from simple to good – please remember we are visiting areas way off the regular tourist circuit. We endeavour to stay in the best available accommodation close to the birding sites to cut out any unnecessary long drives before reaching the best birding areas each day.
Tour Code: This is a long and relatively adventurous tour where early starts can be expected every day and several late finishes may well occur. Most of our birding walks will be at an altitude of over 3,500m (11,000 feet) in Qinghai and the Tibetan Plateau and we will go up to a maximum height of 4,850m. When at such altitudes we will try to walk at a slow pace and limit any excessive uphill walking and at a few key sites there are no paths and we will walk over uneven ground. There are also a few days of very long drives on this tour, with just a few birding stops en-route which you get on any tour to this region. The weather will be variable with the possibility of some rain and even snow in Qinghai, and at the higher elevations it could well be freezing when we begin birding early in the morning. This is definitely a tour for birders who have a keen sense of adventure and can accept that we will be visiting areas that few western birders have ever been. From a physical point-of-view there aren't any excessive hikes anymore, as we have a new site for Tibetan Sandgrouse, which negates the need for a long uphill walk at Er La Pass. So anyone with a moderate degree of fitness should be able to cope with the amount of walking necessary to connect with the main birds on this tour. There will be optional harder walks to search for Himalayan Snowcock for anyone who wants, but the majority of our birding will be alongside the road. But please bear in mind that we will be walking at a high altitude and so we will take all necessary precautions and be sensible!


2014 Tour Report - QInghai & Xinjiang Report.
2014 Photo Gallery - Qinghai Gallery.

Receive our e-newsletter:
Join the Zoothera e-mailing list for up-to-date news on new tours, tour reports and special offers.
Click Here to sign up.
The air holidays and flights shown are ATOL protected by the Civil Aviation Authority. Our ATOL number is 10436.
Please see our Terms and Conditions for more information.