North East Brazil - Endemics!
Tuesday 20th October – Wednesday 4th November

With an amazing amount of endemic and seriously threatened birds North East Brazil has become a fantastic new area to visit. It's a vast region with a substantial diversity of habitats to provide for an extremely varied avifauna. Until recently it has been neglected by ornithologists until the recent discovery of many new species to science. Our tour is devoted to seeing many of the regions spectacular endemics and highly sought after species such as the incredible Araripe Manakin, Lear's Macaw, Great Xenops, Seven-coloured Tanager, Slender Antbird, Hooded Visorbearer, Banded Cotinga and Pink-legged Graveteiro. The region is characterised by humid Atlantic rainforests on the coast, and endless rolling hills with dramatic canyons called the Caatinga. The Caatinga is home to a dry thorny forest with areas of more open grassland. It has its own special suite of endemic species that we will enjoy looking for on our many days of spectacular birding. With only 200 birds in the wild it is here that we will find the endangered Lear's Macaw quietly feeding on palm trees, while Atlantic forest and woodlands at Boa Nova with thick vine tangles and terrestrial bromeliads hold some of South America's most endangered species. We will also visit the Serra da Diamantina National Park at Lencois to explore some higher elevation habitats before heading back to the coast. A final visit to some mangroves and an area of cerrado will complete our tour of this complex yet fascinating region. Our local guide Ciro Albano has an unsurpassed knowledge of this region and an enviable reputation for success and finding the target species and we are sure this very special tour will meet the highest of expectations.


Targets:
Buff-throated Pampa-Finch

Stressemann's Bristlefront

Pale-bellied Tyrant-Manakin

Buff-breasted Tody-Tyrant
Day 1
Arrive Fortaleza - Serra de Baturite
- Tues 20th Oct
Today we plan to arrive at Fortaleza, the capital of the Brazilian state of Ceará. After arrival we will drive 150km to the Serra de Baturite for a night stay. Nights Baturite.
Today will be spent exploring the forests of the Serra de Baturite. This low lying mountain range

contains habitats such as moist, humid, semi-deciduous and dry forests, and host many sought after species. Our targets species here include the difficult Gray-breasted Parakeet, plus Ochraceous Piculet, Rufous (Ceara) Gnateater, Gould's Toucanet and the rather pretty Buff-breasted Tody-Tyrant, with the last four all possible in the forest surrounding our ideally positioned hotel. If we are lucky we may come across the rare Moustached Woodcreeper, the local form of Spot-winged Wood-Quail (a potential split), Rufous-breasted Leaftosser, Slender-footed Tyrannulet, and a very interesting population of Short-tailed Antthrush with unusual vocalisations. This tiny isolated range with its many interesting species and a good selection of endemics from Eastern Brazil will also have us look for Wing-banded Hornero, Gray-headed Spinetail and the north-eastern race of Blond-crested Woodpecker, Little Woodpecker and Band-tailed Manakin. Among the commoner forest species we should see Squirrel Cuckoo, Straight-billed and Lesser Woodcreepers, Sooty-fronted and Ochre-cheeked Spinetails, White-throated Spadebill, Black-tailed Flycatcher, Planalto and Reddish Hermits, Ruby-topaz Hummingbird and Pectoral Sparrow. We will also encounter a selection of open country species such as Turkey and Lesser Yellow-headed Vultures, Snail Kite, Savanna Hawk, Wattled Jacana, Southern Lapwing, Masked Water-Tyrant and Red-necked Tanager. From here we will make our way to Quixada, stopping at wetlands where we may see three species of Whistling-Duck plus Southern Pochard, Least Grebe and possibly White-throated Seedeater and Pale Baywing. Our

delightful establishment is perched on a rocky escarpment with views over the surrounding caatinga.

Night Quixada.
Days 3 - 4 Quixada – Chapada do Araripe
Our morning around Quixada will hopefully connect us with a few caatinga species such as the very localised White-browed Guan, often seen near the hotel. We also have chances for other species such as Pygmy Nightjar, Broad-tipped Hermit, Black-bellied Antwren, Sooty-fronted Spinetail and Pearly-vented Tody-Tyrant. As we leave this area of dry and thickly wooded landscape we will make several stops to acquaint ourselves with some of

the commoner species. We should see the recently split Caatinga Cacholote at its huge stick nest and find the stunning north-eastern form of Capped Seedeater, plus Caatinga Antwren , Rufous-tailed Jacamar, Olivaceous Woodcreeper, Mouse-coloured Tyrannulet and many others. The isolated plateau of Serra do Araripe is surrounded by massive red and gray cliffs and it is here amongst the lush growth at the base of this escarpment that we will look for outstandingly beautiful and critically endangered Araripe Manakin. This species was only discovered very recently and we stand a very good chance of seeing it. The males pearly white body with jet black wings and bright red head make a striking impression amongst the greenery of the forest. The rest of our time will be taken up in search of many regional endemics. In these stunning dry forests we will look for the elusive White-browed Antpitta and the striking White-browed Guan, while one of the real prizes in these woodlands is the Great Xenops which can often be found chiselling away at loose bark in search of food. We will also search out the Pale-bellied Tyrant-Manakin, Silvery-cheeked Antshrike and Gray-eyed Greenlet and hopefully come across a marauding flock of beautiful White-naped Jays. Others species that will hopefully put in an appearance include Caatinga Antwen, Tawny Piculet, Black-capped Antwren, Stripe-backed Antbird, Long-billed Wren, Glittering-throated and Glittering-bellied Emeralds, Blue-crowned Trogon, Bearded Bellbird, Flavescent Warbler and a good selection of the more widespread South American flycatchers such as Forest and Gray Elaenia, Sepia-capped, Gray-crowned, Fuscous, Swainson's and Short-crested. Finishing off with the endemic Ash-throated Casiornis we should have done this wonderful area justice. 2 Nights in Juazeiro do Norte.

Day 5 Drive to Canudos – Caatinga
After some early morning birding in the Serra do Araripe area we will drive across cattle country with its numerous wetlands. We should see Cattle Egret, Snowy Egret, Purple and Spot-flanked Gallinule, Limpkin, Black-bellied Whistling-Duck, Brazilian Teal and if we were lucky

Southern Pochard. Other common birds should include Guira Cuckoo, White-winged Swallow, Cattle Tyrant, White-browed and Chopi Blackbirds. Crossing the Sao Fransisco River, we head south east to the small town of Canudos in the heart of the Caatinga. On our travels through this extraordinary habitat we will pass numerous short and tall cacti in search of Caatinga Parakeet, Silvery-cheeked Antshrike, Scarlet-throated Tanager, Red-legged Seriema, Pectoral Antwren, Broad-tipped Hermit and White-bellied Nothura as well as the unique Red-shouldered Spinetail a distinctive species put into a genus of its own. Accompanying these species will be the Caatinga Cacholote, Black-bellied Antwren, Aplomado Falcon, Dark-billed Cuckoo, Blue-winged Parrotlet, Spot-backed Puffbird, Tawny-crowned Pygmy-Tyrant and White Monjita. Further along the road in this impenetrable thorny scrub we search out the endemic White-throated Seedeater and the Campo Oriole split from the Troupial. We should also hear the dawn whistles of Small-billed Tinamou and see Stripe-backed Antbird, Lesser and Greater Wagtail-Tyrants both of which represent isolated populations in this area and so potential splits, White-naped Xenopsaris, Caatinga Barred Antshrike, Pileated Finch, Ultramarine Grosbeak, Southern Scrub Flycatcher and the abundant Bay-winged Cowbird. Night Lear's Macaw Lodge.

Day 6 Lear's Macaw - Chapada Diamantina
Leaving Canudos we head across endless rolling country, red-rock escarpments and cactus studded Caatinga for the Rasa da Catarina, home

to the very rare and endangered Lear's Macaw. It is here that the Lear's Macaw has managed to survive, nesting in crevices in the rugged canyon walls. One of the rarest birds in the world about 250 mature individuals remain in this area rediscovered by Helmut Sick, the famous Brazilian ornithologist. These birds will be an important target for us this morning and with luck we may even find this rare species feeding in the local Licuri palms. This stunning landscape will give us more chances for species such as the highly threatened Pectoral Antwren, Tataupa Tinamou, Broad-tipped Hermit, Stripe-breasted Starthroat, Swallow-tailed Hummingbird, Pearly-vented Tody-Tyrant, Turquoise-fronted Parrot, Harris' Hawk, Savanna Hawk, Aplomado Falcon, Burrowing Owl and Ferruginous Pygmy-Owl. Amongst the other open country species we could see are Cattle Tyrant, Fork-tailed Flycatcher, Guira Cuckoo, Pearl Kite, Yellow-headed Caracara, Chopi Blackbird, Red-cowled Cardinal, White-winged Becard and Green-barred Woodpecker. With luck we could come across the extraordinary Scarlet-throated Tanager, this intriguing species, currently classified as a tanager, is certainly more reminiscent of an icterid. Continuing on our long drive we may get the chance to stop at ponds where both Masked Duck and Spotted Rail will be looked for. Night Chapada Diamantina.
Day 7
Chapada Diamantina
It is here, in the Serra da Diamantina that we are in a mixed landscape of grasslands, cerrado scrub and deciduous woodlands with rocky outcrops and tall sandstone cliffs. The area was named after the diamond mining that occurred here, but the only precious gem we are likely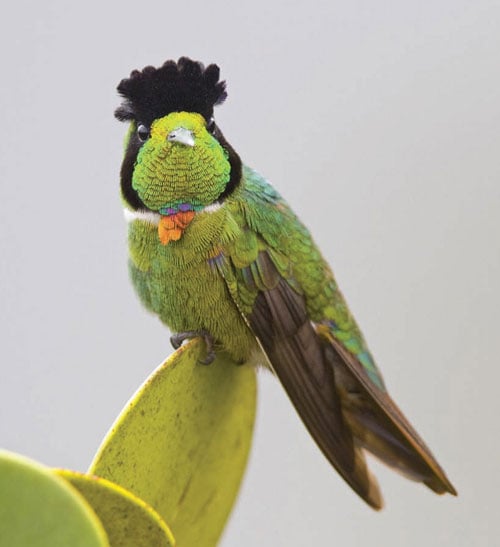 to find and one of our main targets is the simply fantastic looking Hooded Visorbearer a hummingbird in the top of its class. This huge park with a landscape composed of a mosaic of Campo Sucio and Cerrado will offer us many more tantalising species such as South American Snipe, Grey-backed Tachuri, Buff-throated Pampa-Finch Collared Crescentchest, White-eared Puffbird, Plain-crested and Highland Elaenias, White-vented Violetear, Violet-capped Woodnymph, Versicoloured Emerald, White-eared Puffbird, Chicli Spinetail, Cinnamon Tanager, Rufous-winged Antshrike, Yellow-billed Blue-Finch and many others. Yellow-legged Tinamous can be heard calling from the dense undergrowth and will take a bit of finding while special birds such as Spotted Piculet and with luck Golden-capped Parakeet may be encountered. Patrolling raptors should include King Vulture and Black-chested Buzzard-Eagle, we will look for flocks of Biscutate Swifts wheeling around, noisy Speckled Chachalacas, Scaly-headed Parrots, Surucua Trogon, Crimson-crested Woodpecker, Streaked Xenops, White-shouldered Fire-eye, Yellow Tyrannulet, Greenish Elaenia, Eastern Sirystes, Black-tailed Tityra Hooded Siskin and Green-winged Saltator. We also have another chance to see the Great Xenops again at another known site for this species and possibilities for two recently described species the Sincora Antwren and São Francisco Sparrow. Night Chapada Diamantina.
Days 8 - 9
Chapada Diamantina to Boa Nova
This morning we set off on the drive to Boa Nova for a two night stay. In this famous area we will divide our time between two habitats; the drier Mata do Cipo or vine forest and the lusher fragments of Atlantic rainforest. It is in the Mata do Cipo that we shall search for the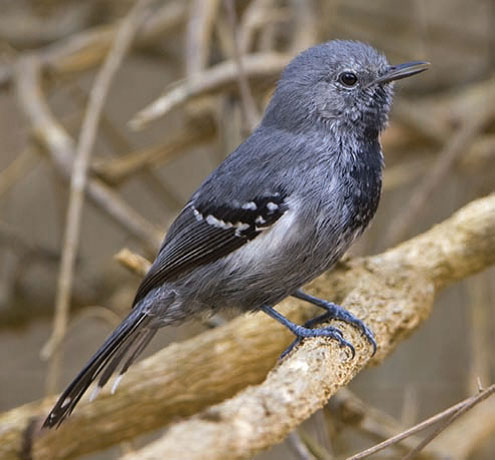 rarer endemic species. This transitional habitat sits between the arid Caatinga proper and the wet Atlantic rainforest. It is characterised by a profusion of terrestrial bromeliads and thick vine tangles covering a rather open low-canopied forest. It is in this strange forest that we look for the Slender Antbird and Narrow-billed Antwren along with the more widespread Stripe-backed Antbird, Silvery-cheeked Antshrike and Buff-breasted Tody-Tyrant. We will also visit an area for the recently described Diamantina Tapaculo, and as we move further east towards the wetter habitats we shall be looking for species more closely associated with south-east Brazil such as Grey-hooded Attila, Frilled Coquette, Buff-throated Purpletuft, Crescent-chested Puffbird Yellow-eared Woodpecker, Pallid Spinetail, Striated Softtail, White-collared Foliage-gleaner, Yellow-lored Tody-Flycatcher, Oustalet's Tyrannulet, Gilt-edged Tanager, Reddish-bellied Parakeet, Scale-throated Hermit, Sapphire-spangled Emerald, Black-eared Fairy, Black-throated Trogon, Swallow-wing, Black-necked Aracari, the red-throated race of Yellow-throated Woodpecker, Plain-winged, White-throated, Planalto and Scaled Woodcreepers, Black-billed Scythebill, Ochre-breasted and Buff-fronted Foliage-gleaners, Sharp-tailed Streamcreeper, Sharpbill, Swallow-tailed Manakin, Hang-nest Tody-Tyrant, Greenish Mourner, Chestnut-crowned Becard, White-necked and Cocoa Thrushes, White-browed Warbler, Red-crowned Ant-Tanager, Black-goggled and Golden-chevroned Tanagers. An area of marshland could produce Giant Snipe, as well as Rufous-sided Crake and Blackish Rail, and nearby Campo Flicker, Pale-legged Hornero, Yellow-browed Tyrant, Brown-chested Martin, White-bellied Seedeater and maybe Least Pygmy-Owl. We should also get time to search for the range restricted Bahia Spinetail, Striated Softtail, Rio de Janeiro Antbird and Mantled Hawk. 2 Nights in Boa Nova.
Day 10 - 11
Almenara
This morning we will drive to Almenara for a 2 night stay. Here we will be concentrating our efforts in the

Mata do Passarinho Reserve (aka Stresemann's Bristlefront Reserve). This is the area where the enigmatic Stresemann's Bristlefront was recently found. The American Bird Conservancy and its Brazilian partner Fundação Biodiversitas have acquired almost 1,000 acres of this unique and isolated stand of Atlantic forest, and plan to save the site, one of the great biodiversity hotspots in South America. This exceedingly rare bird may number less than 20 individuals, all of which are found on this reserve. Besides the Bristlefront, many others endemics occurs in the area, such as the Pink-legged Graveteiro, Rio de Janeiro Antbird, Bahia Spinetail, Three-toed Jacamar, White-necked Hawk, Black-headed Berryeater, Fork-tailed Pygmy-tyrant, Banded Cotinga and many more!!! The Stresemann's Bristlefront Reserve's spectacular forest is not only packed with endangered birds, but is also holds many mammals, frogs, and plant species. With luck we could see Yellow-breasted Capuchin Monkey, Maned Sloth, Mirapitanga Spiny-rat, Giant Armadillo or Thin-spined Porcupine.
2 Nights Almenara.
Days 12 - 13
Almenara - Porto Seguro
This morning we will drive to Porto Seguro for a two night stay where we will make several visits to the superb Vearcel Reserve, a privately owned reserve that protects more than 6,000 ha of pristine lowland Atlantic Forest. There are several good birds to be seen here, but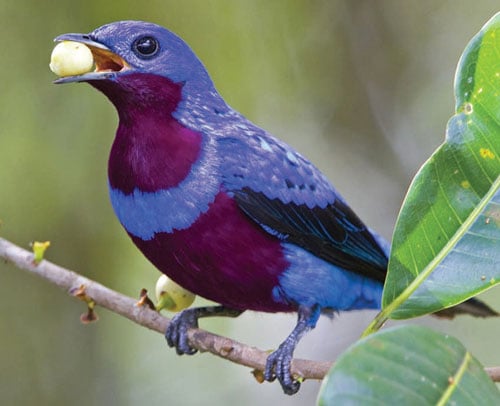 undoubtedly the star attraction is the stunning Banded Cotinga, this very rare and difficult species is now confined to just a few forests in eastern Brazil and we will make a concerted effort to try and locate this gorgeous bird. Natural clearings of white sandy soil and low vegetation known locally as "mussununga" are the best places to look for the cotinga atop the tallest trees. Apart from the Cotinga there are plenty of rare and endemic species around, including the beautiful White-winged Cotinga, Bare-throated Bellbird, Black-headed Berryeater, the endangered Red-browed Parrot, Blue-throated Parakeet, Golden-tailed Parrotlet, Reichenow's Blue-headed Parrot, Variegated and Little Tinamous, Black-necked Aracari, Rusty-margined Guan, Rufous-thighed kite, Double-toothed Kite and White-necked Hawk, Red-stained Woodpecker, Ringed Woodpecker, the local race of Swallow-wing, Cinereous Mourner, Screaming Piha, Hook-billed Hermit, Racket-tailed Coquette, Rufous-throated and White-chinned Sapphires, Swallow-tailed Hummingbird, Bahia Antwren, the vulnerable Band-tailed Antwren, Rufous-winged Antwren, Sooretama Slaty Antshrike, Chestnut-backed Antshrike, Crested Becard, Thrush-like Schiffornis, Pin-tailed Manakin, White-bellied Tanager, Silver-breasted (Opal-rumped) Tanager, Yellow-lored Tody-Flycatcher, White-lored Tyrannulet, Eared Pygmy-Tyrant, Red-rumped Cacique, Yellow-green Grosbeak and much more.
2
Nights Porto Seguro.
Days 14 - 15
Serra Bonita Private Reserve
Serra Bonita harbours one of the last good remnants of moist submontane forest in the region. This mountain range has a unique habitat, with an important altitudinal gradient of native Atlantic Forest between (200–950 m). An extraordinary conservation effort is being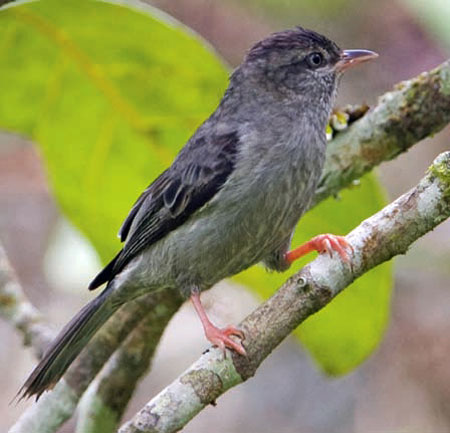 conducted by the owners who have created a private reserve and built an excellent lodge and a research centre. Birds are everywhere! Of course the main target is the unique Pink-legged Graveteiro, which was only discovered in 1996 and always nests close to the lodge. Birding the access road between the lodge and the junction to the cell tower can produce Plumbeous Antvireo, Spot-breasted Antvireo, Salvadori's Antwren, Star-throated Antwren, Spot-backed Antshrike, White-eyed Foliage-Gleaner, Crescent-chested Puffbird, Lemon-chested Greenlet and many others. There will be chances to see Bahia Tyrannulet and Rufous-brown Solitaire, and we will always keep an eye on the sky as a good assemblage of raptors inhabits the area including Black Hawk-Eagle, Black-and-white Hawk-Eagle, Mantled Hawk and King Vulture. When bamboo is seeding Buffy-fronted Seedeater, Temminck's Seedeater, and Sooty Grassquit are very common (and noisy!), and we could see Drab-breasted Bamboo-Tyrant andWhite-wedged Piculet. In the late afternoon we will visit the Research Station to enjoy 'Serra Bonita's Caipirinha' while watching tanagers, hummingbirds and other species come to the feeders, including Green-headed Tanager, Red-necked Tanager, Brazilian Tanager, Azure-shouldered Tanager, Green Honeycreeper, Spot-billed Toucanet, Maroon-bellied Parakeet, Sombre Hummingbird, Brazilian Ruby, Scale-throated Hermit, and Black Jacobin, just to mention a few. Nearby we could encounter Golden-capped Parakeet, Plain Parakeet, Maroon-faced Parakeet, Blue-throated Parakeet and Buff-bellied Puffbird. There are also possibilities for Weid's Black-tufted-ear Marmoset and Tayra. 2 Nights Serra Bonita Private Reserve.
Day 16
Transfer to Ilheus airport
- 4th Nov
This morning after some final birding we will make the 130km drive to Ilheus airport for our connecting flight to Sao Paulo and our international departure.


Leader:

Ciro Albano
Ground Price:
£3695.00
- Fortaleza/Sao Paulo
Airfare:
£780.00 - £1080.00
(Approx)
UK/UK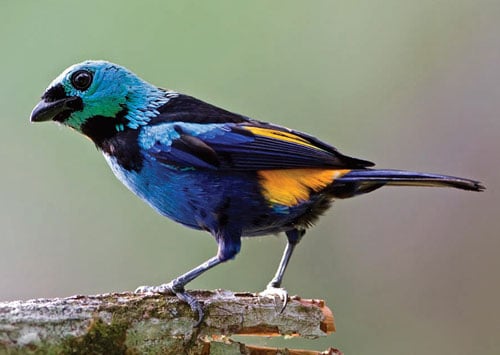 Single supplement:
£425.00
Deposit
:
£500
Group Size:
Minimum for tour to go ahead 5, max 10
Included in cost: Accommodation in twin rooms, en-suite, all meals from dinner on 20th Oct to breakfast on 04th Nov, all transportation within Brazil in Mercedes Vans or Minibuses, all entrance fees, water, and services of the leaders.

Not included: International & Domestic flight, (approx £780.00-£1080.00) insurance, drinks, tips, and items of a personal nature.



Accommodation: Our hotels and lodges vary in quality but all are within easy reach of the areas we wish to bird. Most of the Lodges are of a very high standard.

Tour Code: This is a standard birding tour with all day birding. No particular strenuous walks are planned although some forest trails can be muddy and wet. To see a good amount of endemics and specialities you need to be prepared for full days. We will generally start early and either have an early breakfast or return for breakfast. Lunches will be either picnic or at the lodge depending on our schedule. We can expect all types of weathers from warm and hot to cool and rain. Please be prepared for this.

2014 Tour Report - click here.


Receive our e-newsletter: Join the Zoothera e-mailing list for up-to-date news on new tours, tour reports and special offers.
Click Here to sign up.
Recommended Books, CD's and more from NHBS. Click on - Buy from NHBS - to go straight to website!


The air holidays and flights shown are ATOL protected by the Civil Aviation Authority.
Our ATOL number is 10436. Please see our Terms and Conditions for more information.