Myanmar (Burma)
Bagan, Mount Victoria & Inle Lake: Monday 22nd January - Tuesday 6th February 2018
Gurney's Pitta Extension: Wednesday 7th February - Monday 12th February 2018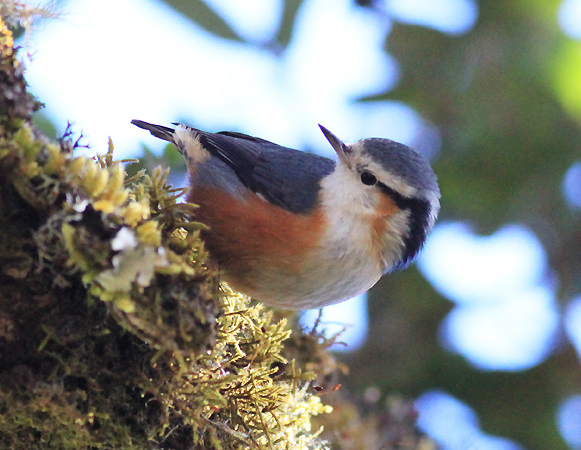 Myanmar (formerly known as Burma) has been one of the least visited countries in Southeast Asia for many years but changes within the country have meant that now is an excellent time to visit this friendly nation and enjoy its fantastic birds, including all of its endemic species and many near endemics, as well as some of its stunning cultural landmarks. Beginning in the former capital, Yangon, we start our birding in the plains before moving on to the ancient capital of Bagan and its profusion of spectacular temples where we will also be able to find four of Myanmar's endemic species; White-throated Babbler, Hooded Treepie, Burmese Bushlark and Jerdon's Minivet. We will enjoy birding from a boat along the Irrawaddy River before driving to one of the ornithological gems of this wonderful country – Mount Victoria. We will spend five whole days at this fantastic location exploring the different altitudes and habitats, giving ourselves the best chance to see more Burmese endemics and many regional endemic species as well as enjoying some wonderful scenery and forests. After traveling back to Bagan we will take a short flight to visit Kalaw, an old colonial hill station where we can enjoy some more forest birding with a quite different set of species to those seen at our previously visited sites. Our birding will commence with a visit to the picturesque Inle Lake and the surrounding farmland where we will see a wide variety of open country and wetland species as well as some interesting culture before heading back to Yangon where the trip ends.
Targets:
Blyth's Tragopan

Mrs Hume's Pheasant

Hill Partridge

Rain Quail

Pale-capped Pigeon

Sand Lark

Burmese Bushlark

Jerdon's Minivet

Hooded Treepie


White-tailed Stonechat

Jerdon's Bushchat


White-rumped Falcon

White-eyed Buzzard

Jerdon's Bushchat

Laggar Falcon

Gurney's Pitta (ext)

Himalayan Cutia

Spotted Elachura

Chin Hills Wren-Babbler

Rusty-fronted Barwing

Streak-throated Barwing

White-browed Nuthatch

Black-bibbed Tit

Burmese Bushtit

Slender-billed Scimitar-Babbler

Scaly-breasted Wren-Babbler

Chin Hills Wren-Babbler

Black-throated Prinia

Striped Laughingthrush

Red-faced Locichla

Assam Laughingthrush


Striped Laughingthrush

Blue-winged Laughingthrush

Chinese Grassbird

Buff-breasted Parrotbill

Jerdon's Babbler

White-throated Babbler

Mount Victoria Babax

Long-billed Pipit

White-throated Babbler

Burmese Yuhina
Days 1 - 2

UK - Yangon

- 22nd to 23rd January
Overnight scheduled direct flight from London to Yangon, Myanmar (formerly known as Rangoon). Upon arrival you will be transferred to a nearby hotel for the night. Night in Yangon.
Day 3

Hlawga Wildlife Park
After a good night's rest we will get our first introduction into the birds of Myanmar by driving to the nearby Hlawga Wildlife Park where our main target will be the little-known Pale-capped Pigeon. This site will be a good place to see a large number of the country's commoner species and we will make sure we get good views of typical Asian birds such as Lesser & Greater Necklaced Laughingthrushes, Greater & Lesser Racket-tailed Drongos, Puff-throated & Chestnut-capped Babblers, Thick-billed and Scarlet-backed Flowerpeckers, and Racket-tailed Treepie, while we will start our bulbul list with Stripe-throated, Red-vented, Red-whiskered, Streak-eared, Black-headed & Black-crested Bulbuls. While much of the habitat is woodland there will also be the chance to see some waterbirds with our first views of Asian Openbill, Oriental Darter, Lesser Whistling Duck, Cotton Pygmy Goose and Painted Stork. We should also be able to find a few waders in the wetland areas too with Little Ringed Plover, Red-wattled Lapwing and Spotted Redshank very likely. There will also be the opportunity to test our identification skills with some warblers such as Oriental Reed Warbler, Yellow-browed Warbler and Greenish Warbler, whilst we have a chance of inding Rosy Minivet as well. In the afternoon there will be the option to make a drive to look for the recently rediscovered altirostre subspecies of Jerdon's Babbler. Before its rediscovery in 2015 this subspecies had not been seen since 1941 and considering its isolation from other subspecies of Jerdon's Babbler it is a candidate for elevation to full species level. Overnight in Yangon.
Days 4 - 5

Bagan

We will take an early morning flight to Bagan, arriving early enough to spend the late morning birding in and around this spectacular area littered with ancient temples and it is here that we expect to encounter our first Burmese endemics; Burmese Bushlark and White-throated Babbler, with an outside chance of Jerdon's Minivet (split from White-bellied Minivet). In the plains of Bagan around 4000 temples and stupas dating from 11th, 12th and 13th centuri

es are situated and the site rivals Angkor in Cambodia as an historic attraction. At the time of year we will visit the visibility should be excellent for enjoying views of these ruins as well as the birds that we will find within this site. Visiting the temples puts us within dry forest and scrub where some of central Myanmar's target species occur including the endemic Jerdon's Minivet, a real gem when we see it, and the shy Hooded Treepie. Of course, while we will be targeting the four endemics we will also be looking for other exciting species including Laggar Falcon, Burmese Shrike, Yellow-streaked Warbler, Brown Prinia, Rain Quail and Spotted Owlet.
A feature of one of our days at Bagan will be a boat trip along the Irrawaddy river, always a pleasant change of pace on a birding tour, to enjoy wetland species which will certainly include the colourful Ruddy Shelduck, elegant Pied Kingfishers, large numbers of Plain & Sand Martins as well as River Lapwing and flocks of wonderful Small Pratincoles. Birding along the Irrawaddy will also give us a chance to look for some seriously threatened Asian birds including River Tern, Black-bellied Tern and perhaps even Great Thick-knee or Indian Skimmer. On riverine islands and vegetation we will also be able to find Sand Lark, Striated Babbler and White-tailed Stonechat while more widespread birds such as Indian Spot-billed Duck, Temminck's Stint, Common Greenshank and Spotted Redshank can be found on the water's edge. Our time at Bagan will give us time to look for all the endemics and difficult to see species as well as the outstanding temples. If we have not already seen them we will be able to look for Long-billed Pipit, the stunning Siberian Rubythroat, Thick-billed and Tickell's Leaf Warblers, the endemic subspecies of Vinous-breasted Myna, Yellow-eyed Babbler, Indian Nightjar, Brown Shrike and Plain-backed Sparrow, a bird that requires a better name to reflect the quality of its colourful plumage. Overnights at Bagan
Day 6

Bagan - Mount Victoria
Leaving Bagan we will begin our journey to Mount Victoria, but there will be a number of birding stops along the way for species typical of dry woodland including Blossom-headed and Grey-headed Parakeets, a variety of woodpeckers including White-bellied, Crested Treeswift, Common & Large Woodshrikes, Brown-cheeked Fulvetta, Burmese and Neglected Nuthatches, Chestnut-tailed Starling and the very attractive Collared Falconet, as well as White-eyed Buzzard. It is here that we will also look for White-rumped Falcon, a scarce bird but one that we will put in some effort for. Commoner birds in this habitat should include Greater Necklaced Laughingthrush, Small Minivet, Lineated Barbet, Asian Barred Owlet and Bar-winged Flycatcher-shrike.
In the late afternoon we will arrive on the lower slopes of Mount Victoria where we will spend the next six nights as we search for some of Myanmar's most exciting birds. Overnight at Mountain Oasis Resort.
Days 7 - 10

Mount Victoria
We will be birding for four full days at Mt. Victoria 3095m (also known as Natmataung National Park), the site which is a major focal point of this tour and the highest peak in the Chin Hills. This mountain plays host to many Himalayan species, several regional endemics as well as White-browed Nuthatch and Burmese Bushtit; both endemic to Myanmar. As we travel up the mountain we pass through a variety of habitats all with their own ecology and avifauna from pine and deciduous forest in the foothills to evergreen forest near the summit we will spend the five days enjoying a huge range of birds. In the lower elevations we should encounter birds such as Bay Woodpecker, Golden-throated Barbet, Ashy Woodpigeon, Barred Cuckoo-Dove, Stripe-breasted Woodpecker, Striped Laughingthrush, Crested Finchbill, Spot-breasted Scimitar-Babbler, Blue-winged Laughingthrush, Nepal Fulvetta and perhaps Hodgson's Frogmouth, while at mid altitudes there are Black-throated Prinia, Rufous-bellied Woodpecker, Streak-throated Barwing, Indian Blue Robin, Spotted Forktail and Buff-breasted Parrotbill (now split from Black-throated Parrotbill). At the highest elevations there is yet another set of birds to see with Mount Victoria Babax, Himalayan Cutia, Brown-capped Laughingthrush, Black-bibbed Tit, Hume's & Bar-tailed Treecreepers, Green Shrike-Babbler, and Slender-billed Scimitar-Babbler highly anticipated.
Birding on Mount Victoria should present us with a wide range of birding opportunities with flocks of feeding birds including tits, woodpeckers and babblers to see at all times, as well as skulking birds to track down including Chin Hills Wren Babbler, Scaly-breasted Wren-Babbler and Russet and Brown Bush-Warblers. On early morning and late afternoon drives we may be lucky enough to see shy and scarce birds such as Blyth's Tragopan, Hill Partridge, Mountain Bamboo-Partridge or Mrs Hume's Pheasant but some of these will require a lot of luck. Other exciting birds here include Assam Laughingthrush, Green Shrike-babbler, Crimson-breasted Woodpecker, Vivid Niltava, Rusty-capped Fulvetta, Spot-breasted Parrotbill, Grey Sibia, Broad-billed Warbler, Yellow-billed Blue Magpie…..the list is endless so there will be plenty to keep us busy. Overnight at Mountain Oasis Resort.
Day 11

Mt Victoria - Bagan
The day will be spent traveling back to Bagan but we will be sure to make a number of birding stops along the way to look for species that we may have not seen on the journey in or just simply to enjoy some of the birds previously seen again; exactly where we stop and what we will look for depends on which species we wish to see again or have better views of. Overnight in Hotel in Bagan.
Days 12 - 13 Kalaw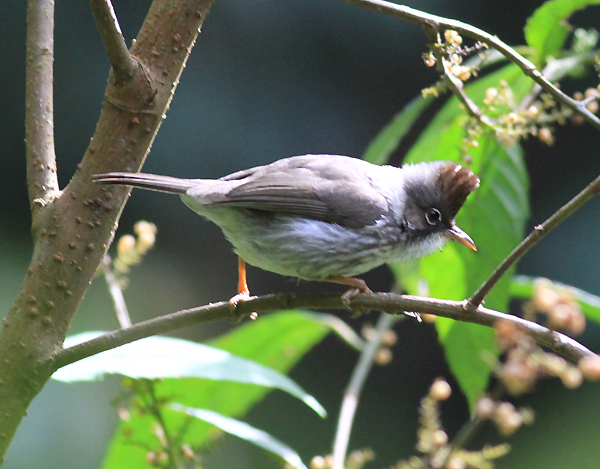 Flying to Heho from Bagan we will drive to the hill station of Kalaw (1335m) where we will spend the next two days exploring the forested mountains for a wide variety of species typical of the Eastern Himalayas, with the near endemic Burmese Yuhina high on our target list. Birds such as Rusty-cheeked Scimitar-Babbler, Silver-eared Mesia, White-browed Laughingthrush and Rusty-capped Fulvetta will be memorable, while Spotted Elachura will present a challenge to see. Arriving winter visitors could include the colourful Daurian Redstart, Grey-backed Shrike, Black-headed Greenfinch and Crested Bunting but shy birds such as White-crowned Forktail, Vivid Niltava and Black-breasted Thrush will be found by using local knowledge. Overnights at a hotel in Kalaw.
We will drive the short distance to Nyaung Shwe where will embark for a boat trip on Inle Lake, the second largest lake in Myanmar. At this location we can see a large variety of wetland and open country birds including Indian Spot-billed Duck, Ferruginous Pochard, Pheasant-tailed Jacana, Bronze-winged Jacana and Yellow Bittern to name a few. There could also be a few surprises with perhaps a rarity such as Baer's Pochard or Sarus Crane. One of our main targets here is Jerdon's Bushchat, which is scarce and declining across much of its range but we should be able to see them here. A number of interesting passerines can be found here as well as waterbirds; Indian Reed Warbler, Bluethroat, Black-browed Reed Warbler, Striated Grassbird and Yellow-bellied Prinia should all be seen and we may be able to find Yellow-breasted Bunting, which is now listed as an endangered species following a huge decline in its population. Raptors can be seen here too including both Eastern and Western Marsh Harriers and in the evening Collared Myna is the target as it gathers with other mynas before roosting. Overnight at hotel on Inle Lake.
Day 15

Inle Lake - Yangon


The morning will give us another chance to go birding on Inle Lake to look for those tricky species that have so far eluded us; Chinese Grassbird would be a lovely species to finish with but will take some finding and a little luck. After birding we will drive back to Heho for our flight back to Yangon where we will spend our last night together. Hotel in Yangon.
Day 16

Yangon - UK - End of Tour

- 6th February
Morning transfer to the airport for our return international flights back to the UK/Europe and conclusion of a very memorable tour. Or continue with the Gurney's Pitta extension.
Gurney's Pitta Extension: 7th – 12th February
Day 17 Yangon to Paya Hton Camp – 7th February
The journey required to get to our base from which we search for Gurney's Pitta will take most of the day such is the remoteness of the location. A morning flight from Yangon to Myeik will be followed by a drive in a 4-wheel vehicle then either a 1 hour motorcycle ride or a three hour trek after which we check into Paya Hton Camp for the next four nights.
Days 18 - 20 Paya Hton Camp
Three full days looking for Gurney's Pitta and the many other exciting species of the area. This region of Myanmar still has forest which hosts a large number of rare species, of which Gurney's Pitta is the most anticipated. The forest here has an affinity to Malayan forests and the species that occur here reflect that, Black-and-yellow Broadbill, Green Broadbill, Crested Jay and even Plain-pouched Hornbill are all possible. Other species that occur in this region include Cinnamon-rumped Trogon, Black Magpie, Banded Broadbill, Scarlet-rumped Trogon and many more, plenty to keep us busy here. Of course, at all times Gurney's Pitta will be the focus of our birding and it is possible that all three days will be required to find this difficult-to-see ground-dwelling species but we are expecting a successful result.
Day 21 Bangkok - London
On this day we make the journey back to Myeik after a final morning's birding.
Day 22 Bangkok - London - 12th February
Domestic flight from Myeik to Yangon and catch our connecting flights home.
Leaders
:
Nick Upton and local guides
Ground Price (Main Tour):

£3335.00 - Yangon/Yangon


Ground Price (Extension):

£1250.00
- Yangon/Yangon
Airfare:

£650.00 - £750.00 (Approx) - UK/UK
Single supplement: £430.00
Deposit: £500.00
Group size (Main Tour): Minimum for tour to go ahead 6 and maximum 10 with 2 leaders.

Group size (Extension): Minimum for tour to go ahead 6 and maximum 8 with 2 leaders.


Included in cost: Accommodation in twin en-suite rooms, all meals, bottled water, all ground transport including domestic flights and overland transport, all park entrance fees, and services of leaders.
Not included: International flights, insurance, visa fee, drinks, tips and items of a personal nature.
Accommodation: Hotels/lodges are mainly of a reasonable to good standard. We endeavour to stay in the very best available lodges/guest houses available closest to the birding sites.
Tour Code: This is a standard birding tour with regular birding walks along roads and well-marked trails. Expect early starts each day! Expect long drives on Days 6 & 11 as we travel between Bagan and Mount Victoria, although there will be birding stops along the way. The weather is generally warm at this time of year, although dawn/dusk and overnight it does get much cooler and can be quite cold at higher altitude. Rain is not expected at this time of year.

There is lengthy travel for the extension which culminates with a ride on the back of a motorcycle of if road conditions are poor, a hike. Weather on the extension is expected to be hot and humid.






Receive our e-newsletter:
Join the Zoothera e-mailing list for up-to-date news on new tours, tour reports and special offers.
e-mail info@zootherabirding.com to sign up.