Best of Vietnam 2017
Main Tour: Saturday 11th March - Tuesday 21st March 2017
Central Vietnam Extension 21st - 28th March 2017

Vietnam has shaken off its association with war and its booming economy has allowed outsiders to visit and enjoy its beautiful scenery, delicious food, culture and, of course, its amazing birds. Vietnam has more endemic bird species than any other mainland Southeast Asian country and is the best place to see a large number of regional specialities . Starting the tour in the capital, Ho Chi Minh City, our birding commences in the forests of Cat Tien National Park where we have an excellent chance of finding Bar-bellied and Blue-rumped Pittas at this time of year. After spending several days at Cat Tien we will begin our journey northwards to Di Linh and the Dalat plateau where some of Vietnam's beautiful, but difficult-to-see laughingthrushes can be found – Orange-breasted, Black-hooded and White-cheeked Laughingthrushes will be high on our target list here. High altitude birding in this area contains an excellent prospect of finding specialities such as Vietnamese Cutia, Yellow-billed Nuthatch, Vietnamese Greenfinch and even Collared Laughingthrush. By spending our time between just a few of the best birding sites we hope to locate a very high proportion of the key birds at an optimal time of the year.
For those wishing to see more of Vietnam's exciting birds, including some more endemics, the 7 day extension gets us to a variety of sites and habitats maximizing the species possibilities. Regional specialities like Limestone Leaf Warbler, Sooty Babbler and Mekong Wagtail are highly likely and stunning birds including Black-headed Woodpecker, Red-tailed Laughingthrush, White-rumped Falcon and Annam Partridge should be a feature of this extension which will conclude with a flight back to Ho Chi Minh City.
Bar-bellied Pitta

Blue Pitta

Annam Partridge (ext)

Orange-necked Partridge

Siamese Fireback

Germain's Peacock-Pheasant

White-bellied Woodpecker

Great Slaty Woodpecker

Black-headed Woodpecker (ext)

Red-collared Woodpecker

Pale-headed Woodpecker

Black-hooded Laughingthrush

White-cheeked Laughingthrush

Orange-breasted Laughingthrush

Chestnut-eared Laughingthrush (ext)

Collared Laughingthrush

Red-tailed Laughingthrush (ext)

Northern Brown Hornbill (ext)

Black-crowned Parrotbill

Indochinese Green Magpie

White-winged Magpie (ext)

Grey-crowned Crocias

Vietnamese Greenfinch

Grey-crowned Tit

Vietnamese Cutia

Yellow-billed Nuthatch

Mekong Wagtail (ext)

White-rumped Falcon (ext)

Grey-faced Tit-Babbler

Sooty Babbler

Indochinese Wren-Babbler (ext)

Black-crowned Barwing (ext)

Limestone Leaf Warbler (ext)
Days 1 - 2

UK - Ho Chi Minh City

- 11th - 12th March
Overnight scheduled direct flight from London to Ho Chi Minh City, Vietnam and transfer by road to Cat Tien National Park, 150 km to the north. Cat Tien National Park contains the largest remaining area of lowland tropical forest in southern Vietnam and an incredible diversity of birds and mammals. Endangered birds found at Cat Tien include Germain's Peacock-pheasant, Green Peafowl and the very elusive Orange-necked Partridge while the mammal list includes Leopard Cat, Lesser Mouse Deer, Sambar, Gaur and two endangered primates, Black-shanked Douc Langur and Buff-cheeked Gibbon. Overnight at Cat Tien National Park HQ.

Days 3 – 5 Cat Tien National Park

We will enjoy three days of birding at one of Vietnam's premier birding sites: Cat Tien National Park. There are excellent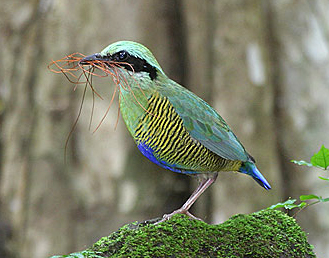 trails starting right at the park headquarters for us to explore on foot and for areas further afield, such as Crocodile Lake, jeeps will be used. The 5 km walk through semi-evergreen forest to Crocodile Lake can be good for the near-endemic Germain's Peacock-pheasant as well as Blue-rumped and Bar-bellied Pittas while the beautiful Siamese Fireback can often be seen on an early morning drive to the start of the Crocodile Lake trail. Among the many other avian treats to be found at Cat Tien are Scaly-breasted Partridge, Woolly-necked Stork, Lesser Adjutant, White-bellied, Great Slaty, Pale-headed, Black-and-buff and Heart-spotted woodpeckers, three species of Broadbill and the Indochinese-endemic Grey-faced Tit-Babbler.
Overnight at Cat Tien National Park HQ.
Day 6

Cat Tien NP - Di Linh
There is time for some final early morning birding at Cat Tien National Park to look for any target species that we have not yet seen or simply to enjoy at greater length some of the birds we have already encountered; afterwards we will head up Highway 20 to Di Linh. A short drive from Di Linh town is a forested mountain pass known as Deo Suoi Lanh, which is an excellent site to look for several Dalat Plateau specialities including Black-hooded, White-cheeked and Orange-breasted Laughingthrushes and the near-endemic Black-crowned Parrotbill. After enjoying an afternoon's birding at Deo Suoi Lanh we will return to Di Linh where we will spend the night.
Overnight at Di Linh.
Day 7

Di Linh – Dalat
An early morning visit to Deo Suoi Lanh to look for other exciting possibilities that could include Blue Pitta, Indochinese Green Magpie, Spotted Forktail and Green Cochoa, before continuing along Highway 20 to the cooler climes of Dalat; after the heat of the lowlands the lower temperatures here will be nice. In the afternoon we will make the first of several visits to the Ta Nung Valley, a small, but bird-filled area of remnant evergreen forest just 10 km from Dalat itself. This is the most accessible site for two rare Vietnamese endemics, Grey-crowned Crocias and Orange-breasted Laughingthrush. In addition to these two beauties, the very distinct local subspecies of Blue-winged Siva, Black-headed Sibia and Black-throated Sunbird can found here alongside many of the commoner species.
Overnight at Dalat.
Days 8 – 10

Dalat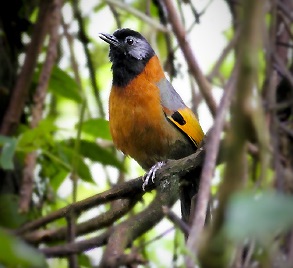 There are several other excellent birding sites around Dalat and we will use our time wisely between them, using our guide's local knowledge to find as many of the local specialities as possible. At Mount Lang Bian, a 2,169m high peak twenty minutes from Dalat, Hume's Treecreeper, Yellow-billed Nuthatch, Grey-crowned Tit, Vietnamese Cutia and Black-crowned Fulvetta can be found in the remaining evergreen forest below the summit. However, the most sought-after species here is the beautiful and skulking endemic Collared Laughingthrush.
Ho Tuyen Lam, a man-made lake just out of town, is a great place to look for some of the local pine specialists including Indochinese Cuckooshrike, Slender-billed Oriole, Burmese Shrike, Red Crossbill and Vietnamese Greenfinch. Our time here should result in some memorable sightings in a variety of habitats. Overnight at Dalat.
Day 11

Dalat - Ho Chi Minh City - UK - End of Tour

- 21st March

We can enjoy a final morning of birding around Dalat before transferring to the airport for the short afternoon flight back to Ho Chi Minh City's Tan Son Nhat International Airport and onward connecting flights back to the UK.
CENTRAL VIETNAM EXTENSION: 21st March - 28th March
Day 11

Yok Don National Park

– 21st March

For those of us continuing on the extension we will leave Dalat and embark on the scenic drive north to Yok Don National Park in Daklak Province after lunch. We will arrive in time for dinner at the park canteen and if we make good time we may have some time for some birding beforehand. Overnight at Yok Don National Park HQ.


Day 12

Yok Don National Park - Mang Den
We will spend the early morning exploring the banks of the Srepok River and the dry deciduous forests of Yok Don. Many specialists occur in this habitat and we will find many species that we have not yet seen on this tour and which are not easily seen elsewhere in Vietnam including Fulvous-breasted and Rufous-bellied Woodpeckers, the stunning Black-headed Woodpecker, as well as Alexandrine and Blossom-headed Parakeets, White-rumped Pygmy-Falcon, Rufous Treepie and the recently described and near endemic Mekong Wagtail. After lunch there is another scenic drive north to Mang Den in Kontum Province.
Overnight at Mang Den.


Day 13

Mang Den
At Mang Den we will have a full day's birding to discover some of the key birds of Central Vietnam; this is where the recently-discovered and seldom-seen endemic, Chestnut-eared Laughingthrush will be our main target. This skulking bird will not be easy but there are other specialities of the Mang Den area to look for, including the scarce Pale-capped Pigeon, Yellow-billed Nuthatch, Black-hooded Laughingthrush and Indochinese Wren-babbler.
Overnight at Mang Den.
Day 14

Mang Den - Lo Xo/Kham Duc
There is time for some final early morning birding at Mang Den where other birds that are uncommon elsewhere in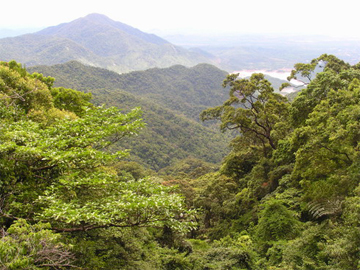 Vietnam can be found including Rufous-faced Warbler, Pale Blue Flycatcher and Grey-headed Parrotbill. We will then leave Mang Den mid-morning; it is a four hour drive northwards up the Ho Chi Minh Highway to the Lo Xo Pass. We can then enjoy some late afternoon birding at Lo Xo Pass where the main target is the Indochinese endemic Black-crowned Barwing, only discovered in 1996.
Overnight at Kham Duc.
Day 15

Kham Duc/Lo Xo - Bach Ma National Park
There will be time for a return visit to the Lo Xo Pass in the morning to look for other specialities of the area such as White-winged Magpie and the highly sought-after Red-tailed Laughingthrush. Returning to Kham Duc at mid-morning we will then continue northwards to Bach Ma National Park. After checking in at the park HQ accommodation there should be time for some late afternoon birding in this excellent habitat. Species to look for here include Indochinese Green Magpie, Ratchet-tailed Treepie, Black-throated and Lesser Necklaced Laughingthrushes, Sultan Tit and many others.
Overnight at Bach Ma National Park Summit Guesthouse.


Day 16

Bach Ma National Park- Phong Nha-Ke Bang National Park
We will have a morning birding at Bach Ma National Park where we will target sightings of the endemic Annam Partridge and near-endemic Indochinese Wren-babbler as well as some other local highlights. In the afternoon we will leave Bach Ma for the long drive north to Phong Nha-Ke Bang National Park.
Overnight at Phong Nha-Ke Bang National Park.
Day 17

Phong Nha-Ke Bang National Park
We will spend a full day exploring another habitat that is unique to the region; the limestone forest of Phong Nha-Ke Bang National Park. A few special species will be the main targets here including the Indochinese endemic Sooty Babbler, which lives on the limestone outcrops, and the recently-split Limestone Leaf-warbler. The superb Red-collared Woodpecker as well as Northern Brown Hornbill are among the other specialities at Phong Nha and hopefully we can encounter an endangered primate - the Ha Tinh Langur.
Overnight at Phong Nha-Ke Bang National Park.
Day 18

Phong Nha-Ke Bang NP - Ho Chi Minh City - End of Tour

– 28th March

We will leave Phong Nha-Ke Bang National Park after breakfast for the drive south down Highway One to Hue Airport for the afternoon flight back to Ho Chi Minh City and the conclusion of some excellent birding.



Ground Price Main Tour:

£2250.00 - Ho Chi Minh City/Ho Chi Minh City
Ground Price Extension:

£1795.00 - Dalat/Ho Chi Minh City



Airfare:

£825.00 - £950.00 (Approx) - UK/UK
Single supplement Extension:

£165.00
Deposit: £500.00
Group size: Minimum for tour to go ahead 6 and maximum 10 with 2 leaders.
Included in cost: Accommodation in twin rooms en-suite, all meals, bottled water, all local transport including domestic flights and overland travel, all park entrance fees, and services of leaders.
Not included: International airfare, insurance, visa fee, drinks, tips, and items of a personal nature.

Accommodation: The hotels & lodges used during this tour are of a reasonable to good standard, all with en-suite facilities. We will stay in the best available lodges/guest houses as close to the birding sites as possible.
Tour Code: This is a standard birding tour with regular birding walks along roads and well-marked trails. Expect early starts each day! Expect a few long drives. The weather is generally hot and humid in the lowlands but pleasantly cooler in the mornings at higher altitude. Rain is not a major feature at this time of year, although there could be a shower or two.


Receive our e-newsletter:
Join the Zoothera e-mailing list for up-to-date news on new tours, tour reports and special offers.
Click Here to sign up.

The air holidays and flights shown are ATOL protected by the Civil Aviation Authority. Our ATOL number is 10436. Please see our Terms and Conditions for more information.