Welcome to the Zoothera Birding Website
Here you can find a wide variety of exciting birding tours from around the world. Birding is our passion and we enjoy sharing our experience with other like-minded travellers, from beginners to expert alike. We truly believe that our combination of small groups, competitively priced and attractive itineraries, and our excellent leaders will provide you with the perfect birding and wildlife tour. So let's go birding!
If you have any questions about our tours or want to discuss them in detail, please call our office on 01803 - 390721, or email info@zootherabirding.com. Or use our Contact page to send us a message.

Marvelous Spatuletail by our guide Roger Ahlman. Our tour to Northern Peru is the only way to see this amazing bird.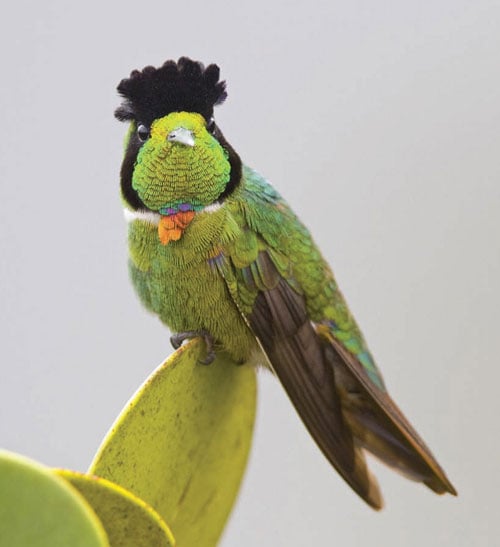 So why not join a Zoothera tour and let us take you to some of the best birding locations to see some amazing birds? This is a Hooded Visorbearer from our NE Brazil tour.

Situated between Thailand and Vietnam, Cambodia was, for a long time, one of Southeast Asia's most inaccessible and tantalizing birding destinations but with the stabilization of the country it has, quite rightly, become a must-visit country for some of the region's rarest birds. The most highly prized of these are the amazing and near-mythical Giant Ibis and the exceedingly rare White-shouldered Ibis. Both species are classified as critically endangered by Birdlife International with very restricted ranges and exceedingly small breeding populations. We will also visit sites for Milky Stork, Greater Adjutant, White-rumped Falcon, Orange-necked Partridge, Germain's Peacock-Pheasant, Bar-bellied Pitta, Red-vented Barbet, Neglected Nuthatch, and the endemic Cambodian Tailorbird.


Our stunning wildlife journey in India takes us into the heart of 'Kipling country' and to the two premier locations to search for Bengal Tiger in the world of Bandhavgarh and Kanha National Parks. Our specially-designed wildlife holiday is designed to give us the best opportunities to observe Tigers and by taking morning and afternoon jeep safaris we have the very best chance to observe this stunning creature in its natural environment. There is also a wealth of other wildlfe to observe here plus a wonderful selection of birds such as Mottled Wood Owl, Blue-bearded Bee-eater, Streak-throated Woodpecker, Indian Nuthatch and more.


The small strikingly attractive island of Taiwan with its growing number of endemics is a 'must-visit' for anyone interested in Asian birding. Situated some 200 kilometres off the eastern coast of China, the often mist-laden and dramatic mountainous interior with lofty peaks cloaked in mature forest will be our base as we search for some very special birds. Our unique itinerary covers the best birding sites in order to see all of the endemics and many of the endemic subspecies that make this such a fascinating country to visit. On this tour it is quality rather than quantity that counts as we target the 30 or so endemics currently recognised, although taxonomic revisions are increasing this figure all the time!


Our Kazakhstan & Uzbekistan tour is going to be a superb adventure. A wide variety of habitats will be explored from vast expanses of flat steppe grasslands, stony deserts with saline and freshwater lakes dotted around the country to the massive towering peaks of the Tien Shan Mountains. We will be looking for Pallas's Sandgrouse, Himalayan Snowcock Caspian Plover, Sociable Lapwing, Ibisbill, MacQueen's Bustard and much more. The extension to Uzbekistan visits a country steeped in ancient history and there is also a list of very special birds to be found such as Rufous-naped Tit, Ménétries's Warbler, Blue-cheeked Bee-eater, Hume's Lark, Yellow-breasted Tit, Finsch's and Variable Wheatears and White-throated Robin. At the top of the "want-list" is the enigmatic and curious Pander's Ground Jay, easily found in the stony deserts of Kyzyl-Kum.